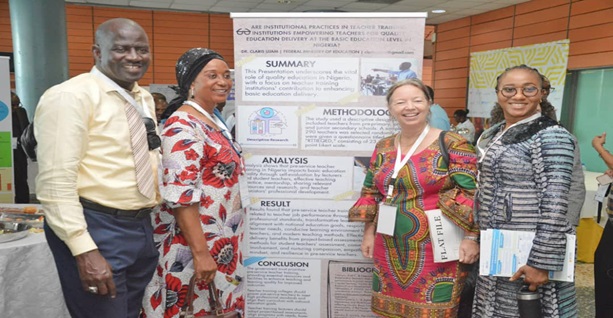 A Commitment to Advancing Education
Associates for Change recently took part in the 2nd Knowledge and Innovation Exchange (KIX) Symposium organized from the 12th – 14th October 2023. This event marked another significant step in the ongoing mission to drive innovation and transformation within the field of education.
The Knowledge and Innovation Exchange (KIX) is a global platform that brings together education experts, policymakers, practitioners, and researchers from around the world. The symposium sought to provide an opportunity for researchers, practitioners, and policymakers to share findings from their respective work; promote learning and dialogue among researchers, practitioners, and policymakers on how to use data to improve educational outcomes and foster evidence-based policymaking at the country level.
Director of Associates for Change, Dr. Leslie Casely-Hayford delivered a presentation on Empowering Education Systems through Equity and Scaling research. She highlighted the benefits of developing more holistic Education data systems as this could lead to improved resource allocation and lead policymakers to design inclusive education policies and allocate resources to ensure that all students have equal opportunities to access quality education.
Associates for Change's participation in the event served as a source of inspiration for all those striving to create a brighter, more inclusive, and innovative future through education.