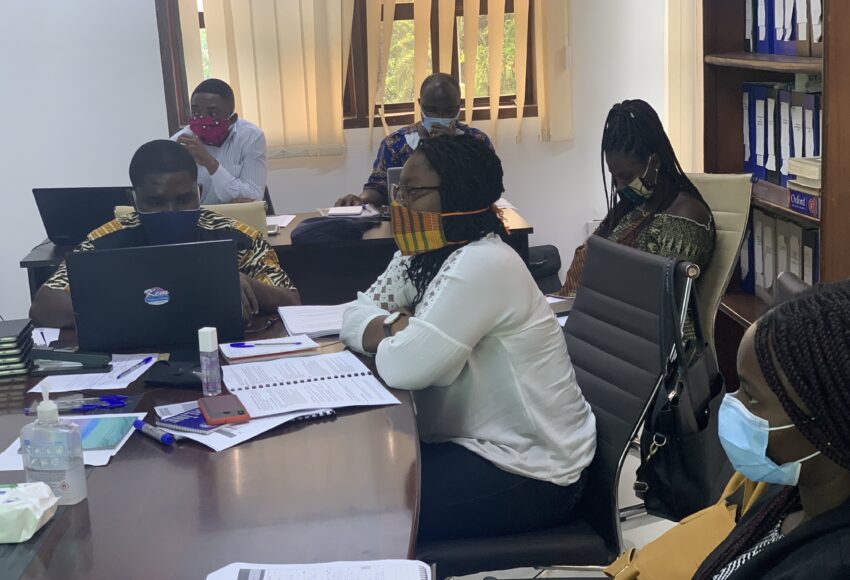 Recent Research Related to Education and Development
Associates for Change has a wide range of experience in conducting qualitative research in the areas of basic education, gender equity, child rights and social policy. AFC has also provided technical support in other major areas such as educational management, training, monitoring and evaluation. The major pieces of commissioned research and evaluative studies are listed below. Some of these are available in our research section of the AFC web site as indicated by the icon
Consultancy Services for "Impact Assessment of the Untrained Teacher Diploma in Basic Education (UTDBE) and Sample Survey of Lesson Delivery: Lesson Observation Survey", Ghana Education Service and World Bank, 2015.
Research on Trained and Untrained teachers in Northern Ghana: What Value Addition does Volunteerism bring in terms of Systemic Change to Education Quality particularly in relation to Volunteer Teachers and Support Agents under the Tackling Education Needs Inclusively (TENI/VSO) Project (2013).
Final Evaluation of USAID JHS Education Project, Ghana Transition and Persistence (TAP) Program. Plan Ghana. 2013.
Girls' Education and Gender Equity
Gender Responsive Budgeting (GRB) training and capacity building for a cross-sector team of public servants from three ministries led by Ministry of Women and Children Affairs (MOWAC), (2011).
Setting up a Gender Responsive Budget Monitoring and Evaluation Unit within the Ministry of Women and Children's Affairs to provide support across all the Ministries, Departments and Agencies of Government in Ghana.
Closing the Gender Gap in Ghana: Generating the Evidence Base for 'What works' in Gender Equality in Education. (2011). Commissioned studies by CAMFED Ghana and DFID.
Strategies to Promote Girls' Education: a look at their impact and effectiveness; Commissioned by the SNV, IBIS, UNICEF and WFP (December, 2008 to April, 2009)
Mid Term Evaluation of the Outcomes and Impact of Food Aid on Educational Access for Girls across the three Northern Regions of Ghana. (World Food Programme).
Funding Options for Girls' Education in Africa with special focus on Ghana (World University Service of Canada).
Study investigating the reasons behind poor participation of female teachers in rural deprived areas of Ghana (World Bank and Ghana Education Service).
Information Communication Technology within the Education Sector
Conducted Baseline Study for Fiankoma Teacher Education and ICT Development Project in Five Cape Coast Schools in Ghana (Fiankoma Teacher Project).

Conducted two studies on Information Communication Technology (ICT) and Special Needs Education for Children in Africa and Ghana (IMFUNDO Supported studies).
Social Protection and Child Rights
The Gender Assessment for Commission on Human Rights and Administrative Justice (CHRAJ) (2013)
Social Protection Study on Children in Ghana (sponsored by the International Cocoa Initiative, Geneva).
A Situational Analysis of the Worst Forms of Child Labour in the Cocoa Industry in Ghana (International Cocoa Initiative, Geneva).
Study on Social Protection of Retrenched/Vulnerable Workers in Ghana (DFID/Crown Agents: Subvented Agency Reform Programme-SARP).
Conducted Study on the Situational analysis of HIV/AIDS and provided recommendations for mainstreaming HIV/AIDS across DANIDA's programmes in Ghana.
Conducted research, prepared paper for senior expert conference on the socio-economic impact of HIV/AIDS across West Africa (Commissioned by UNESCO).
Prepared the final resource manual 'the Elmina Resource Guide' for policy makers working on HIV/AIDS and Education across West Africa (Commissioned by UNESCO).
Prepared Study on HIV/AIDS across West Africa 'HIV/AIDS in West Africa : the incidence, impact and way forward.' (Commissioned by UNAIDS).

Developed the HIV/AIDS in Education Action Plan for the Regional Bureau for Education and Development ( BREDA ), Senegal.
Environmental Health and Pro Poor Agriculture
World Food Programme Country Programme Mid-Term Evaluation (2015).
The Ghana Market Development (MADE) for Northern Ghana Programme Independent Evaluation Data Collection Activities (January to March, 2016).
Team leader for final external evaluation of CIDA supported community water and sanitation project in northern Ghana with particular focus on the impact on women and girls' education (Christian Children's Fund of Canada).
Team leader for Studies investigating the relationship between Poverty Reduction and Accelerated Agricultural Growth in Ghana . Conducted studies and produced several working documents to assist policy makers formulate pro poor policy within the agriculture sector (Rural Livelihood Programme, DFID, Ghana ).
Designed and Led Team of Researchers to conduct socio-economic research into regional and district implementation capacity for multi- sectoral action to improve income and food security in Ghana: the Brong Ahafo Development Programme (BADSP, DFID Rural Livelihood Programme).
Micro Enterprise Development and Capacity Building
CCFC/CIDA Team Leader, Final Evaluation Micro Enterprise Development Programme for Women in Ethiopia and Ghana.
Conducted assessment of World Bank's Ghana Port folio, institutional capacity of NGOs and Ghana Social Assessment (World Bank, Ghana Poverty Reduction Programme, Africa Region); Team member for African Development Bank (ADB) design and appraisal of the Social Investment Fund (SIF).

Developed curriculum and provided training on project management and community development for NGOs working in Northern Nigeria; built capacity of Nigerian counterpart institutions to deliver training and build capacity of a northern network of NGOs (DFID, Capacity Building and Development Programme in Nigeria ).